Thought leadership. A well-used term (and a little bit wanky if you ask me!)
But what does it actually mean?
Since leaving corporate life and becoming immersed in the entrepreneurial world, I really feel the term has come into its own.
Thought leadership simply put means sharing your ideas with courage.
It's about standing up for what you believe in, even if that means polarising opinion. It's about sharing your ideas, expertise, experience and systems with others, so that they can benefit too. It's for the greater good, part of a mission that is bigger than the individual. It also helps leaders in all spaces stand out as a credible authority in their field.
To be a thought leader you need to have a following. Here are a few ways you can build a following in order to elevate your thought leader status.
1. Build your network – This is a key first stage in building a following and something that will continue as you grow and develop. Your network will comprise people that start to know, like and trust you, are switched onto your thoughts and ideas, but who also offer feedback. It is very much a 2 way process and will help you to start refining your ideas. Your network will include people who fulfill formal and informal roles such as mentor, coach, sounding board, motivator, feedback giver. Be clear on who these people are in your network. It doesn't even have to cost you money! All you have to do is ask.
2. Build your audience – Once you have a base established, you can start to consider how to share your message on a wider scale. This includes webinars, guest articles, interviews and talks. Communicating your ideas more broadly will enable you to test the response you receive as the word spreads. You will start to be known for your key areas of thought leadership. Some may agree, others may not. You will most likely find those that do will start to follow you and will become loyal.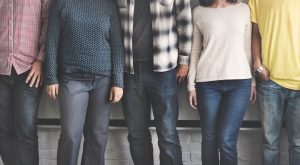 3. Build your community – Finally, once you have started to grow your audience you will see that something magical happens. Your loyal followers start to become ambassadors of your message and share your ideas for you throughout their networks. They start implementing your ideas, with positive results, which not only achieves your desired goals to making a difference but also continues to elevate your credibility.
Want to know more for free?
I recorded a live broadcast on this very subject this week. You can catch the replay here. I'd love to know your thoughts on this.
I also did a really juicy training session in my group this week giving 4 ways you can develop your ideas and refine your thought leadership. Join the group here.
Hope you found this helpful? Let me know by leaving a comment!
Much love
Helen x
PS. f you are looking to find ways to really stand out and make your mark in 2017, get in touch. Thought leadership is just one of the many areas I can help you refine in order for you to really make your mark.
Book in a free clarity call here
Book a clarity call now