Over the last few years I have been working closely with coaches, entrepreneurs, leaders and consultants one to one and in group programmes and workshops. In that time I have gathered together tools, resources, approaches and strategies that can really help anyone in these categories to make their mark in the world with their communication.
What I've learnt is that becoming a sought after speaker is way more than learning how to deliver a talk. It forms part of a bigger strategy that enables my clients to look wider and bigger, to line up their ducks and form a strategy for how they put themselves out into the world.
There's so many parts to this puzzle, but over time it has fallen into three key areas:
Authority
Getting recognised as the expert in what you do by what you say and how you deliver on your expertise. This involves really stepping up above the noise and thinking differently about your brand, message and method. What you are known for and what differentiates you from the rest.
Impact
Removing the blockers that are holding you back from getting super visible online and on stage. Levelling up your communication skills to really pack a punch with your words. Using structure and focus to your communication so it flows and is received just how it is intended to whatever audience you are speaking to.
Reach
How you put yourself out into the world to reach the people you want to reach with your message. This includes the strategy that will enable you to get in front of the right people in the right way without it feeling pushy or tiresome. From your content marketing to your proactive outreach to organisations, podcasts, event hosts and curators. This part is all about clarity on the who and where and then making it happen.
This forms my AIR system. It's my own method that I will use as a foundation for my services going forward.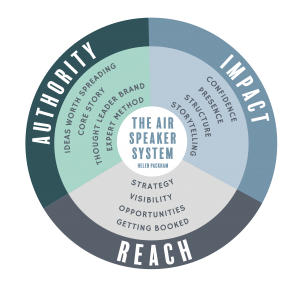 How will the AIR system be used?
I'm going to be starting with one to one, and will soon be relaunching my Stand Out and Speak Intensive and introducing some brand new coaching packages.
When we work together, we will agree on which areas of the system are key for you and your business goals, and then define a bespoke plan tailored around those areas and desired outcomes..
I will bring in my arsenal of tools, resources, approaches, structures and strategies, only giving you what you need to focus on to avoid the overwhelm and cut straight to the chase.
If you need to work through it all? No problem, we will systemise a clear step by step process for you to follow. If you only need to hone in on one area? Awesome, we'll just focus on that.
I'm excited about what's coming. It feels like it's been waiting for a while on the sidelines (lockdown tings lol) Now I'm raring to go and want to share how I've been helping people behind closed doors and how I can help you too!
Can't wait and want to know more?
I'm always here to chat and answer questions and can give you all the deets.
If not? No probs. I'll be sharing much more over the coming weeks including something brand new that you might be interested in.
Much love
Helen
PS. Thank you SO much to everyone who has given me feedback by filling in the survey. I'll be drawing a name out of a hat and announcing the winner of the 30 minute stand out strategy session next week! If you haven't yet filled in the survey but would like to be in on it you can take a few minutes to do so here.
https://docs.google.com/forms/d/1QeCVc0kiElcvlCrbBVEpQNcPbrpxBN4qlOSabaxKeg0/edit