I've been continuing to write my book this week and I realised how much easier it has been to write for one particular reason. 
Before I embarked on writing the book I could have been completely overwhelmed by what to include, how to order the book so it made sense, and how to make it digestible and practical. Part of the reason why I waited was because I wanted to ensure that the book focuses on the specific problems and challenges my clients face and how I help to solve them. 
I stepped into the niche of verbal comms (after a few years of working in a more general way) about 4 years ago now. In that time I have worked with clients on a one to one basis, in workshops, group programmes and events. 
Over that time I noticed key themes coming out and I started to put them into a coherent order. I noticed that there were three key areas that clients needed most help with: 
Getting recognised as a credible authority in their field so that they are the go-to choice for clients and opportunities

Upskilling the impact of how they communicate with their audience (in whatever format that may be) so that they really make a difference

Increase their reach so that they get in front of the right people in the right ways (and bring in the money!)
And so the AIR system was born.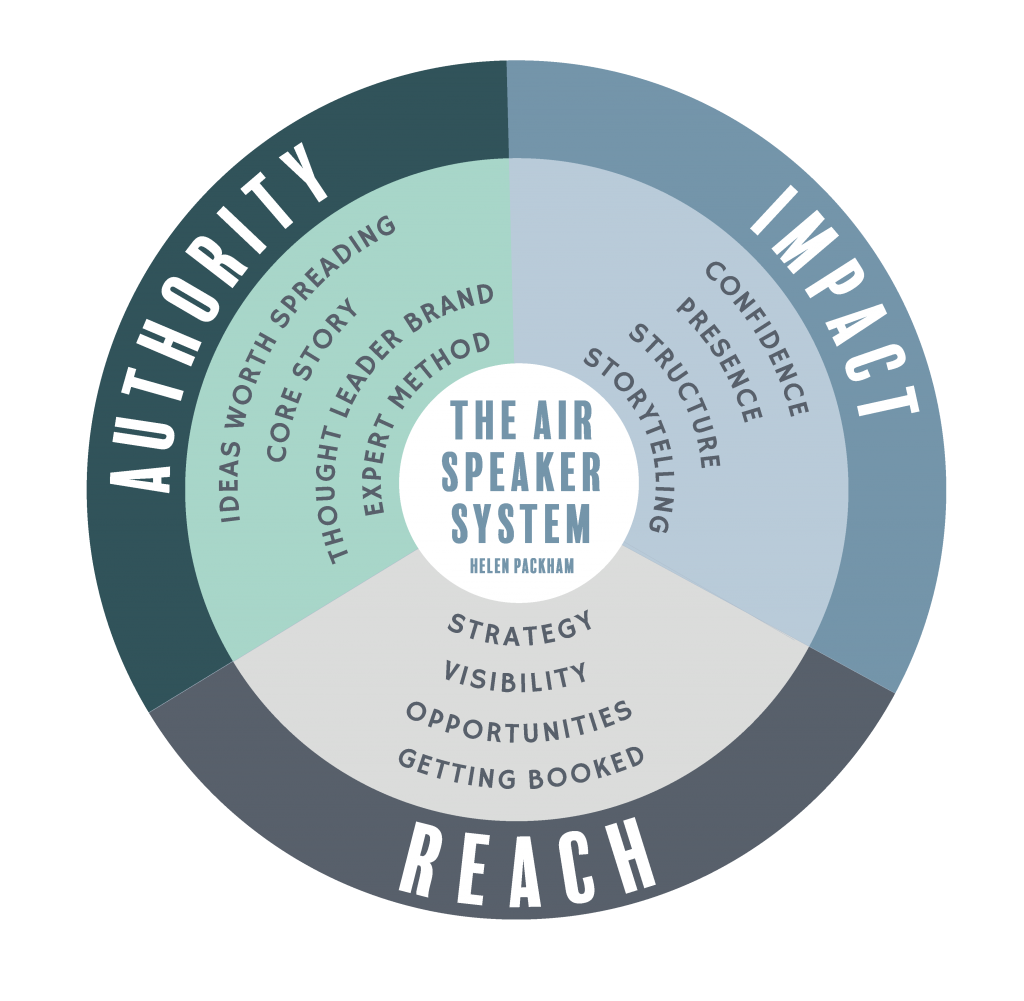 This is my 'expert method.'
Your expert method is the framework, process, methodology or system that you use to deliver your own unique service to your clients. It is usually born from working with clients and identifying emerging patterns or approaches that are tried and tested and have proven to work over time. 
Your expert method could be an acronym, model, or step by step that can be easily understood in visual format. 
The benefits of developing an expert method
It is completely unique to you, utilising your own set of skills and experience in an ordered way

You can use it as the basis of your books, talks, courses, 121 coaching, display it on your website, create assessments or surveys around it, and many more things. 

It puts a unique stamp on your work and is something that can be associated with you, your authority and expertise.
I was able to pull 29,000 words of my book together over three days because I am using the AIR system as the basis for the book. It is neatly organised into three parts with 4 subsections in each part. The experience I have gained over the last 4 years has gone directly into the book under each section.
Do you have an expert method? If you do? Great, shout about it to the world!
If you don't yet have one?
Here are some ways that can help:
Download my free AIR assessment which looks at 'Expert Method' under the area of authority. You can complete the assessment and see how you are faring with an expert method and identify what other areas might be of benefit to focus on too. https://helenpackham.lpages.co/no-cookie-air-assessment-hp-home-page-free-opt-in/

Sign up to my 'Expert Method Mini Intensive' Grab one of a few limited slots to create your own expert method, directly with me. Together we will create your own unique method that can put a stamp on your services in a way that gets you known as an authority in your field. 
What's included: A pre intensive assessment to identify exactly what is needed. Two hours over zoom or in person (if in the Sussex area) to create your method. An action plan and two weeks follow up support to get it tied up and nailed. Price £897. Can be made by one payment or split into two. If you'd like to book a space hit reply. This limited time offer ends Friday 6th May and I have 4 spaces available until end of July. 
3. Register your interest in my book. There is a whole chapter of the book dedicated to creating your own expert method! I'm still in the writing stage, however I will be looking for awesome people to get an early copy of the book to read, give feedback and review. If you'd like to get your hands son it before it is released, please hit reply and let me know.
And of course, if you have any questions please just ask. I am here to help!
Much love
Helen