At the time of writing, I just finished delivering a virtual talk and am buzzing like a bee!
It was a special charity event hosted by my amazing friend and colleague Lisa Moore and it went off with a bang. 
Some say that virtual events can in no way conjure the same feelings as sitting in an audience. 
Well, yes. There are a few things that virtual speaking can't recreate. 
But I was left feeling super pumped, inspired to take action and (naturally) high as a kite. Here's why….
It was a ticketed event – People paid for a ticket and were therefore invested. Engagement and attendance was very high as a result. 

The speakers all knew their subject – they were dipping into a deep well of knowledge that they were passionate about. It really came through in the power of their delivery.

The talks were kept to time – which is crucial for energy and engagement and a great skill as a speaker to work on continuously (whether virtual or not!) Props to Lisa for her inventive way of reminding us when our time was nearly up! 

The use of slides were on point – slides can enhance a virtual talk, just like they can a face to face one. The slides used were simple and really packed a punch. Some speakers didn't use any, but were still clear and succinct, and delivered simple messages rather than cramming in too much material.

The messaging was off the chart – each speaker had a very strong clear message. What I like to call the 'core message' of the talk. This takeaway is the one thing that is left in the audience's mind. Inspiring them to take action. 

Every speaker complimented the other in their subject. Lisa did a fantastic job of curating the event. There was a strong theme and reinforcement of similar messages. I was left with a clear motivating message to make the most of the current situation.
These types of events are popping up everywhere. You only have to do a quick google search of events in your area, or go onto Facebook, Meet Up, LinkedIn or Eventbrite and they are ripe for the picking. 
Why is it super important for you to be speaking at these events right now?
Because virtual speaking is one of THE BEST ways to:
Showcase your area of expertise and talk about 'hot right now' topics that your ideal clients NEED to hear.

Reach new people. New potential followers, fans and clients that are poised and ready to hear you as the expert and absorb your powerful and motivational messages.

Give you the speaker buzz. Yes standing on a stage feels pretty darn amazing (once you get over the fear hump!) But virtual speaking seriously gives you kicks too! I had to peel myself off the ceiling. I was

that

buzzed.

Enhance your speaking skills. There ARE different skills involved in virtual speaking. But if you already use video in any way shape or form in your current business then you are in a very good position to tweak and add to your skill set. 

Inspire and motivate people. I received emails instantly after my talk thanking me for making attendees think, help them look at things differently and take action. Here is one example.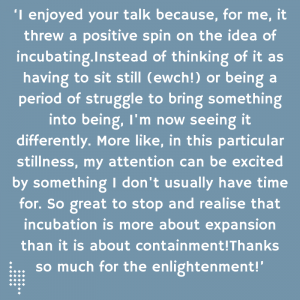 You see I, like you am here to help people. And if I can help people right now in any way shape or form? Then that is everything to me. 
I want to help YOU too!
I would LOVE to help you make this a focus right now and help you with the skills to really nail it as a virtual keynote speaker. 
In this isolation period I have been busy beavering away, listening to my clients and followers, observing what they are saying and seeking out the opportunities that are ripe for the picking.
As a result I have come up with a training series that is going to help you become a lead generating, audience growing virtual speaking wizz.
I'm going to share the SIX methods of virtual speaking that can help you get courageously visible, elevate your authority status and generate more leads and clients into your business. All from the comfort of your own home.
Not only that but I'll also be training you on crafting your 'hot right now' message so that you can be speaking on the things that your clients really need right now. 
PLUS! I'll also be sharing WHERE you can find the gigs and HOW to land them too!
If you are interested in my Virtual Speaking Pro training series please hit reply with 'interested!' I can answer any questions you might have before it drops (very very shortly) so you can make sure it's the right training for you.
I'll be putting it out at a special introductory offer for a short amount of time, so look out for that too.
It is my mission to help you show up, make money and change lives through the power of verbal communication. I'd love you to join me on that mission.
Comment below if you'd like to learn more about Virtual Speaking Pro.
Much love
Helen
X