There was a lot of hype online last weekend as entrepreneur Alex Hormozi delivered a live masterclass to 500,000 people to launch his new book.
Many have spoken out about how his final pitch twist garnered huge interest over a period of 24 hours with nearly everyone from the UK saying they hadn't heard of him before.
If you didn't see it, he gave away thousands of pounds worth of courses to everyone that registered, as well as his new book, completely free. 
It was a great example of rapid authority building, huge impact and exponential reach. 
Here's a few more observations on how Alex nailed it in these 3 areas:
AUTHORITY
He weaved his own personal and professional stories into the presentation, emanated his leadership values and showed up completely authentically in a baseball cap, denim shirt and breathing nose strip. Pretty unique and very memorable, but also deliberate.
He was consistent in delivering his mission and messages over and over throughout, showing his thought leader status in the online industry based on his extensive experience. His mission, to 'make business education accessible to everyone', was proven in the plot twist of giving everything away for free. He was also showcasing his expert method, the methodology for generating 100 million dollar leads.
IMPACT
His delivery was compelling. At times there was quite a bit of 'reading' however, it was a 1.5 hour, mainly one way delivery with minimal interaction on the video/chat box. 
He used 'nested loops' to introduce a story and come back to it later to create intrigue. Personal stories and case study stories drove home his points. He used analogies and repetition to solidify the messages he was delivering. It wasn't perfect but it wasn't meant to be, and this only amplified the authenticity. I was drawn in and hooked by the (not unique but tried and tested) structure he used to pose the problems, and solve them with the solutions inside the book. He also had great presence.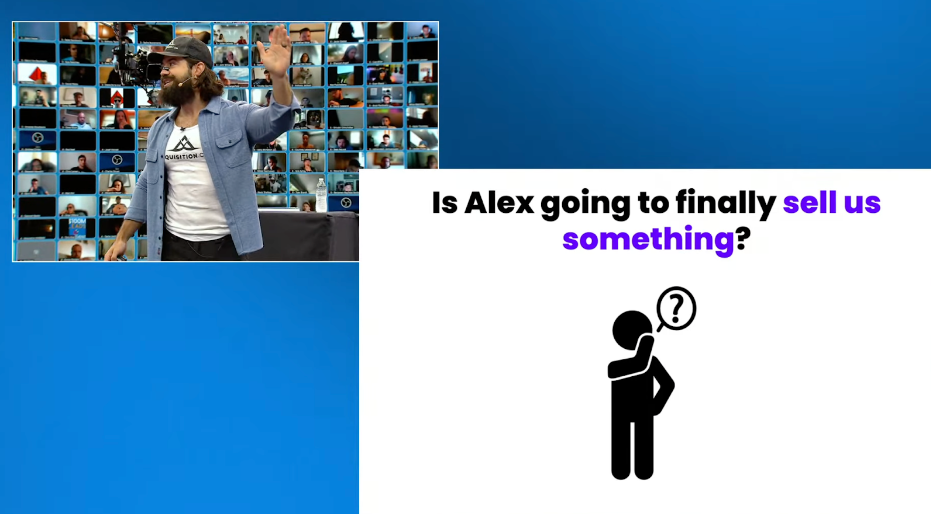 REACH
Alex broke down the steps he had taken to promote the live webinar, including social media content, cold and warm outreach, and the use of partners and affiliates. He also appeared on a bunch of podcasts which resulted in 500,000 people signing up to the free event. All of which were available as a process in his book. 
But what about you?
Alex Hormozi is at the top of his game, someone to look up to and be inspired by, but you can apply these exact approaches to your own business and strategy, wherever you are on your entrepreneurial journey, to get fantastic results. 
A few months ago, I ran a live masterclass series breaking down the ways that coaches, consultants and entrepreneurs can increase their Authority, Impact and Reach and become sought after experts and thought leaders in their industry.
I've now made it available for anyone to watch, completely free of charge. 
So if you were inspired by Alex Hormozi, or just want to take action to move the needle in these three areas of your business, you can watch the masterclasses for free here.
Helen
If you do watch them, I'd love to know what your takeaways are, just hit reply and let me know! Here's that link again.