It's not often you get to spend the day with some of the UK's most courageous and inspiring people, but I was lucky enough to do that this week.
I was invited to attend  The World Class Leadership Conference, organised by Be World Class founder Simon Hartley and Head of Speaker Development, Kevin Kerley from The Academy Of Chief Executives. With these two organising the line up, I knew it was going to be pretty special.
And I wasn't wrong.
From the opening speech to the closing exercise, I was completely blown away. Of late, I have usually been the one standing up and speaking, so it was nice to be in the audience for a change. With my delegate head and speaker head on, I was able to observe just how fantastic these leaders are at delivering powerful messages, and learning through the power of words and presence.
Here are my biggest takeaways from the day…..
The day started with Simon posing the question that would form the theme for the event.

The world is changing at an alarming rate. It doesn't matter how relevant you were, but how relevant you are and will be.

What is just around the corner? What are the challenges you don't yet know?
Brendan Hall
At the age of 28, Brendan skippered the winning boat in the 10 month Clipper Round the World Yacht Race. The Clipper race is one of the toughest in the sailing world, encountering the most treacherous conditions and most dangerous seas. The added challenge for the skipper, is that they're leading a team of amateur sailors that have never crewed together before.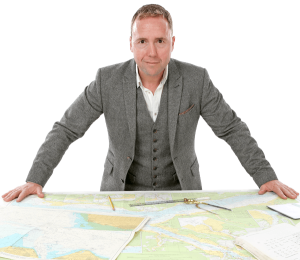 Brendan's moving talk gave an honest account of his journey as a leader during that period, and the lessons he learned. His talk was full of 'on the edge of your seat' moments, including Brendan having to skipper two other yachts as well as his own when they ran into trouble. His leadership lessons were –
Create a culture of coaching within your team, a buddy system worked incredibly well on the yacht

Autonomise the team. Doing this created trust, and enabled Brendan to think strategically, as well as leaving the yacht to go help others in trouble. He said that letting go of being a directive leader and becoming the servant leader was a game changer.

Daily meetings – these daily huddles became crucial in continuing open communication and feedback. Including the team giving Brendan honest feedback too,

Adopting a growth mindset – focusing on what was possible every day rather than the limitations they were facing enabled them to go on and win the race by a large margin.
Floyd Woodrow, MBE.
Floyd is a former Major in the Special Air Service (SAS). He was one of the UK's youngest soldiers to be selected for the elite Special Air Service at the age of 22. During this time he served in many different operational areas globally.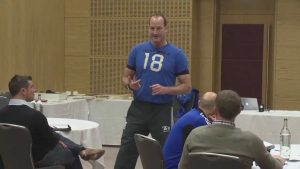 Floyd's talk literally blew me away. His combination of  crystal clear delivery, inspiring and thought provoking videos and a simple yet highly effective model, had me gripped from start to finish.
Floyd walked us through his Compass For Life framework, with each point representing elements that contribute to a strategy for success.
North – represents your super North Star. Being clear on how good you want to be and where you are going helps to keep you adventurous, curious and motivated on the ever evolving journey. It also helps to keep focused during the tough times too.
East – represents ethos, the emotional considerations that will align you to your path. Your values, your preferences, the things you want people to say about you when you aren't in the room.
South – represents strategy. When you are clear on how good you are, and where you are headed, it's time to step out and think, am I making the right decisions? This also includes building contingency for when things go wrong.
West – represents the warrior. This is all about taking action. It is also about looking after yourself so you can be the best 'warrior' you can be. Floyd told us about 'wise selfishness' and how focusing on your needs and well being will ensure the well being of others.The warrior is also a vulnerable one, it's ok to say that you are scared. This was a refreshing insight from an SAS major!
Ann Daniels
Polar Explorer Ann Daniels is a world record holder and one of Britain's leading female explorers. She has led many teams to success in the most difficult conditions on earth. In 2002, Ann became the first woman in history to ski to the North and South Poles as part of all women teams.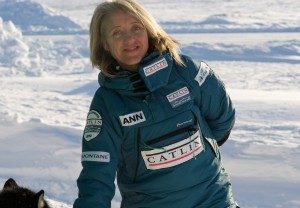 I was very moved by Ann's talk, which started with her sharing that she went on her first polar expedition when her triplets were 18 months old. When asked by someone in the audience how it felt to leave her children, Ann's response was that we can be even greater parents by inspiring our children to follow their dreams, which she has continued to do. How wonderful is that?!
The talk was an incredible insight into what it takes to be in such treacherous conditions for long periods of time.
Her leadership lessons were –
The weakest member of the team isn't always the weakest. Each team member has unique strengths and a role to play.

True teamwork comes from caring for and carrying each other when you most need it. Ann's team member Pom didn't make the whole expedition, but it was the team effort that got them to the end.

With moving ice making them literally lose ground each day, they became focused on smaller goals. Asking 'how far can we go today?

Ann was stalked by a polar bear for 3 days and came out the other side. This experience has stayed with her ever since and the bear is now her talisman. The message here? Turn your greatest challenges into your greatest inspiration and motivation.
Justin Hughes
Justin was a military fighter pilot with the UK Royal Air Force, becoming the Executive Officer of the Red Arrows, with whom he flew over 250 displays worldwide. He is now the Managing Director of Mission Excellence, a consultancy that specialises in accelerating team and organisational effectiveness.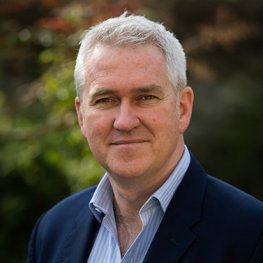 Referring to the military acronym VUCA He spoke of the volatility, uncertainty, complexity and ambiguity involved  when flying as a red arrow pilot.
The biggest takeaways from this fascinating talk were –
It is better to be approximately right than precisely wrong

When dealing with ambiguity, work out 1st the known knowns, then the known unknowns and when faced the the unkown unkowns, know how to have very simple and clear priorities in any given situation..

Make high pressure decisions in low pressure environments, prepare for the worst when the pressure isn't on.
Simon Hartley
Simon Hartley is a globally respected sport psychology consultant and performance coach. For over 20 years, Simon has worked with gold medallists, world record holders, world champions, top five world-ranked professional athletes, Olympians and championship winning teams.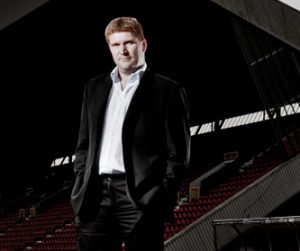 Simon addressed the topic of character, how to define it, and how we can build it in ourselves and our teams.
I loved his description of character, that it is the outward expression of who we are, It's the way we live our personal qualities, values, beliefs and philosophies. This really rung a bell with me when thinking about how we build our leadership brand as entrepreneurs.
But the strongest message was that our challenges and tribulations are what build our character. Not classrooms, courses or books.
'Character is formed in the stormy billows of the world' was a beautiful quote he shared from Wolfgang Von Goethe.
Dame Stella Rimington
Dame Stella Rimington is the former Director General of MI5. The first woman to take the post and the first DG to be publicly named, Dame Stella has extensive experience of the Security Service, having led all three divisions: counter-subversion, counter-espionage and counter-terrorism.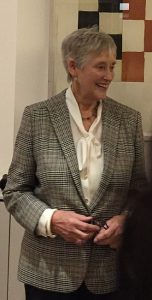 Dame Stella had me engaged from the moment she stood up on the stage. No slides, no notes, just her amazing presence and the most captivating story of how she joined MI5 as a part time typist, when women were seen as 'helpers' within the organisation, to becoming Director General.
She had to navigate many challenges in her time there, notably being the first women to move from a helpers role and be trained to identify the human source within an enemy organisation. Dame Stella spoke of the evolving needs of an effective leadership structure within the organisation, and the difficulties of being the first person to be named as Director General publicly and the impact it had on her family.
But the message that resonated with me most, was that even Dame Stella had to deal with the work parent juggle, and that it all worked out ok in the end!
I walked away bursting with inspiration. Spending the day around such awe inspiring people really left an impression on me.
We can all take these lessons into our own lives. We can go into the ever changing landscape of the world with courage, as these wonderful people have done before us.
Huge thanks to Dino Tartaglia and Simon Hartley  for the incredible opportunity to see these speakers in action.