I was just about to take the stage. My heartbeat was loud in my ears, my mouth dry as a bone. Panic took over and a deafening voice within me was shouting 'you can't do this!' I was miked up and next in line to go on.
I couldn't back out now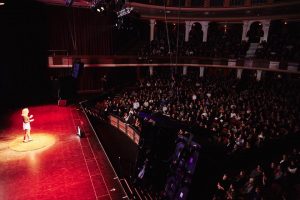 And in that moment I forced myself to think forward to after the event. How would it feel? How proud would I be? There really only was one option, I had to bloody enjoy this thing!
And so when the sound guy ushered me forward and handed me a glass of water, I took one big swig, put one foot in front of the other and strode out onto the huge stage of the Brighton Dome concert hall.
I told my story in front of 1500 people. A simple tale of how I lost who I was and with that any shred of confidence I once may have had. (Want to know how to tell your story? Grab my free 5 step action plan to standing out online here!)
But I regained that confidence, rediscovered who I was and unlocked the courage to keep moving forward and chase those dreams.
Many ladies I speak to can't believe that at one time I had no confidence. They can't believe that I worry and and get scared. But the fact is that it is true. At one time I couldn't even hold a conversation if I met a friend on the street. I felt anxious, awkward and uncomfortable. I would go bright red at the slightest thing.
I wanted to be invisible. I didn't want to deal with anything. I was more concerned with how other people were feeling because I didn't know what I needed or wanted from life.
To gain the courage and confidence to go get those dreams, I have learned three things –
1. It's all in there
Confidence and courage isn't something you have to acquire. It's within you already, as is everything you need to know about yourself. The key is to unlock it and release it so that you can put one foot in front of the other down a new and awesome path in your life and business.
2. Clarity is crucial
Through a lot of trial and error I found a way of unlocking my confidence and courage by gaining clarity on what I am here for and who I am here to serve, I put this together in an easy to follow formula to help my clients that ensures all the ducks are in alignment all the time.
3. Visibility is key
If nobody sees you, nobody can hear you. That means they won't know how you can help and inspire them. In order to fully unlock that beautiful courage and confidence, you need to shine a light on what is currently blocking you from spreading your message free and wide and inspiring ALL those ladies that need to hear your rallying cry.
Want some help finding the key to unlock it all?
When you join me in Dream Leaders Academy, I will help you find the key to your courage and confidence and unlock the door to let it out. I will help you lay the right foundations so that you have crystal clarity in what
you are here for, who you serve and how you serve them. We will also work together to get you visible, spreading your message and really making the difference you want to make in the world.
We will do this in powerful weekly group calls where you get the support of your academy sisters AND 2 x 121 coaching calls with me.
Imagine feeling like wild horses won't stop you.
Imagine feeling brave and bold to be visible without worry or fear of what others think.
Imagine having sweet clarity to take real and practical action in your business.
Imagine what it will be like to work with those DREAM premium clients.
All this can be yours. I am SO ready to help you. But you have to want to take action. You have to be ready.
The early bird price of £997 ends this Friday 23rd December. Payment plans are available. After Friday the price will be £1500. 
Find the courage to make that decision today. You WON'T regret it.
To book your place hit reply to this email, send me a message on Facebook or book in a call to chat it through. Calls are limited this week so if you do have questions just shoot them to me so I can speak with you straight away!

Helen x